Batteries Plus Bulbs Franchise Opportunity
I really took the time to do my due diligence - from a management standpoint, a marketing standpoint, and an industry standpoint. I really liked the feedback that I kept getting from the existing franchise owners.
A local feel with a competitive pricing structure
Financial Information:
| | |
| --- | --- |
| Cash Investment: | $100,000 |
| Net Worth: | $350,000 |
| Franchise Fee: | $25,000 - $37,500 |
| Total Investment: | $189,250 - $366,350 |
| Royalty Fee: | 5% of Net Revenues - Paid Monthly |
Available Markets:

Canada:
United States: AL, AK, AZ, AR, CA, CO, CT, DE, DC, FL, GA, HI, ID, IL, IN, IA, KS, KY, LA, ME, MD, MA, MI, MN, MS, MO, MT, NE, NV, NH, NJ, NM, NY, NC, ND, OH, OK, OR, PA, RI, SC, SD, TN, TX, UT, VT, VA, WA, WV, WI, WY
Fulfill your dream of owning your
own business with Batteries Plus Bulbs
Take the reins of your financial future by partnering with a company that's been consistently recognized by Forbes® Magazine as one of America's best franchises to buy. Batteries Plus Bulbs is the largest and fastest-growing battery, light bulb and device repair franchise with over 700 locations nationwide.
As a franchisee, you'll enjoy the freedom and flexibility of being your own boss, along with the security that comes from our nationwide network of support.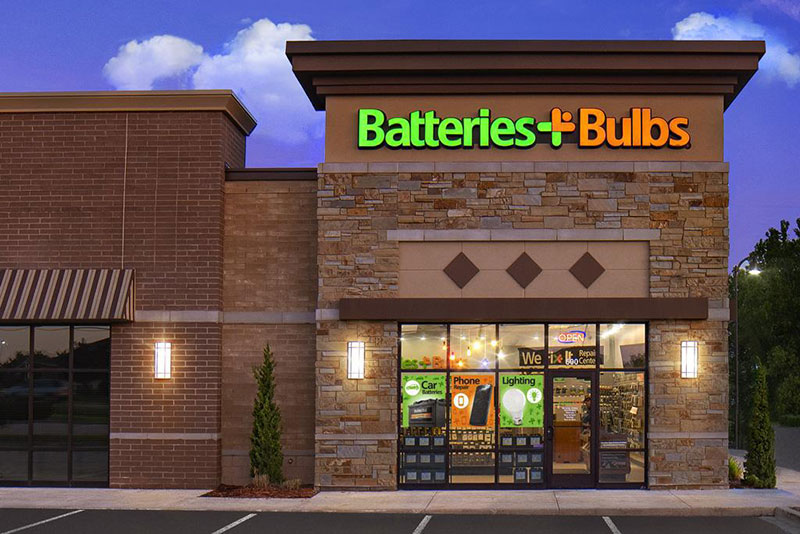 Why Franchise with Batteries Plus Bulbs?
Needs Based Business: When someone's phone stops working or their car battery wears out, it's a big deal. As an owner, you'll help to solve your customers' immediate needs, providing them with same-day solutions they can't get from online retailers.
World-Class Support: As an owner you'll never have to face new business challenges alone. Our owners are backed by a comprehensive system of support that encompasses everything from employee training to IT, product knowledge, marketing and more, so you can focus on connecting with customers and growing your business.
You Don't Need Experience: Not a battery expert? Don't worry, we'll provide the tools and training you need to help you become one. People from all walks of life have become Batteries Plus Bulbs owners. Some are young entrepreneurs just launching careers, while others are retirees looking for their next challenge.
Convenient Hours: Unlike many other franchises, our stores aren't open around the clock, or even very late. Build a schedule that works for you, based around your individual needs.
An Ever-Evolving Brand
As a Batteries Plus Bulbs owner, you have access to over 60,000 unique battery and lighting products, but that's only the beginning. Throughout its 30-year history, the company has consistently adapted to meet the needs of a changing retail market, capitalizing on new trends and expanding its catalog of products and services to include additional revenue streams like device repair, auto key cutting and key fob programming.
No other retailer offers such a wide array of products and services under one roof. Plus, as an owner, you'll have the ability to grow your business even further through business to business commercial accounts.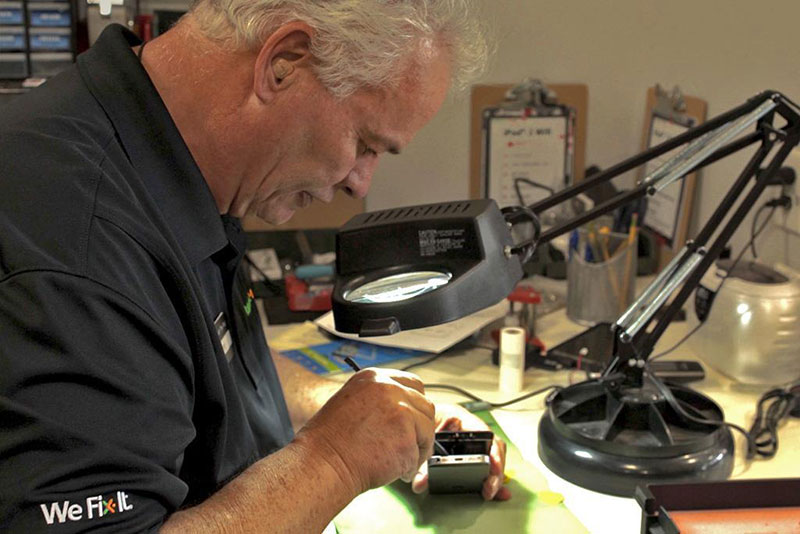 Multiple Revenue Streams
Batteries Plus Bulbs allows owners to tap into the $32 billion U.S. battery replacement market and the $22 billion U.S. light bulb replacement market, but that's just the beginning. In addition to brick and mortar retail sales, you'll repair cell phones and tablets, cut keys for cars and trucks, forge partnerships with local businesses and so much more.
Consumer/Retail: Your brick and mortar store is your principal source of profit, selling batteries, light bulbs, flashlights and other accessories directly to customers.
Device Repair: As a device repair shop, you'll provide on-site repairs for Apple products, Samsung devices and other model cell phones, tablets and smartwatches.
Tech Center Services: Diversify your customer base by rebuilding rechargeable battery packs, installing batteries in watches and key fobs, troubleshooting laptop batteries and more.
eCommerce: You make money every time someone in your market buys a product from our website. Plus, our Buy Online, Pick Up In-Store program is a wonderful way to drive additional customer traffic to your store.
Business accounts: Build additional revenue by serving local businesses, government entities and more. Best of all, you can tailor your commercial services to fit your expertise, providing everything from UPS backup system maintenance to lighting retrofitting.
National Accounts: Large companies with facilities in multiple states often have locations near you that can generate additional sales for your store.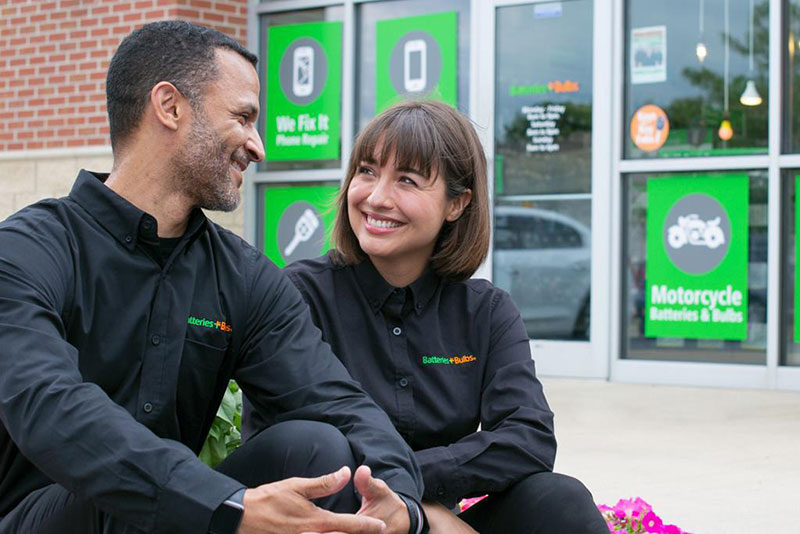 World-Class Training
At Batteries Plus Bulbs we realize that we're only as good as the people who represent us. That's why we take such a serious approach to training. Even if you know nothing about batteries or device repair, our world-class training programs will provide you with the knowledge you need to help set your business up for success.
Your training will include
Classroom Training: Learn from experts, apply what you've learned and received feedback in the moment
Making Connections: Connecting learners with experts who can help them be successful
Online Courses: Highly-interactive online courses that can be accessed anytime from anywhere
Guided Experiences: Learn by going through simple but impactful learning experiences
Webinars: Live online learning events that help build knowledge and are easy to attend
Practical Tools: Reference tools to use on-the-job and at the moment of need
Take control of your future, contact us below to learn more about this franchise opportunity and start building your own business.
Request Information
Looking for more information about Batteries Plus Bulbs? Take a moment to fill out our quick information request form.