Franchise Resource Directory
Franchising is a proven way to succeed in business. But the sheer number of franchising opportunities and the many different kinds of business operations can sometimes make franchising seem daunting. If you're considering a career move into the world of franchising our Franchise Resource Directory can provide the kind of information that will help you decide where, when, and how to build a successful business.
Here you will find many resources to help you succeed in franchising. Whether it's accounting, advertising, customer relations, and financing needs, or real estate, human resources, technology, and legal assistance, this listing offers the kinds of tools and assets that can help your business thrive.
After five phenomenal events in Texas, FES returning to Florida, serving the southeastern US as well as Latin America and the Caribbean. Along with a comprehensive conference program, FES brings together the leading concepts in franchising and the most qu
SOCi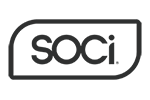 SOCi, the leading all-in-one platform for "next-level" multi-location marketers, announced that Rob Reed, Founder and former CEO of MomentFeed, joined the company full-time as Strategic Advisor - Enterprise Brands.