Own a Wienerschnitzel Hot Dog Franchise
Financial Information:
| | |
| --- | --- |
| Cash Investment: | $250,000 |
| Net Worth: | $600,000 |
| Franchise Fee: | $32,000 |
| Total Investment: | $303,600 - $1,443,000 |
Available Markets:

United States: AL, AZ, AR, CO, ID, IA, KS, KY, LA, MI, MS, MO, MT, NE, NV, NM, ND, OK, OR, SD, TN, TX, UT, WA
Join the brand that OWNS the hot dog category. Wienerschnitzel® stands out in the booming quick-service segment by delivering the best hot dog experience in the nation. With millions of fans, several years of same-store sales increases and exceptional franchise support, it's no wonder why Entrepreneur magazine continually ranks us as the top brand in our category.
Wienerschnitzel Is A Simple Business To Own And Operate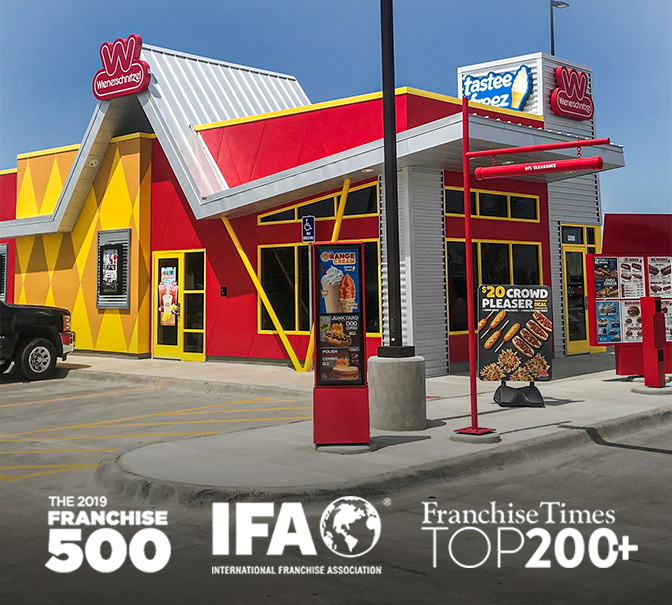 In the QSR industry, the costs to invest in a new restaurant can be staggering. Wienerschnitzel® is proud that we're an affordable franchise opportunity in the quick service entry. With the total investment necessary to begin operation of a new Wienerschnitzel ranging from $303,600 to $1,443,000, the costs to entry are kept low for one reason and one reason only: we want to help successful entrepreneurs thrive in this business as possible.
Financial Information:
Cash Investment: $250,000
Franchise Fee: $32,000
Total Investment: $303,600 to $1,443,000
Available Markets:
United States: AL, AR, AZ, CO, IA, ID, IN, KS, KY, LA, MI, MS, MO, MT, NE NV, ND, NM, OR, OK, SD, TN, TX, UT, WA,
What Makes Wienerschnitzel a Wise Investment?
You can't be in business for close to 60 years without getting a few things right. Founded in 1961 by John Galardi in Southern California, Wienerschnitzel is the largest hot dog franchise on the planet, with more than 325 restaurants open in 10 states. By elevating the hot dog to star status on its innovative menu, Wienerschnitzel capitalizes on America's deep love for the hot dog with tried-and-true classics such as the Chili Dog, Corn Dog, Polish Dog, and more. Best of all, Wienerschnitzel provides an exceptional product and exceptional customer service at a price point that all Americans can afford.
Here's a few of our recent highlights: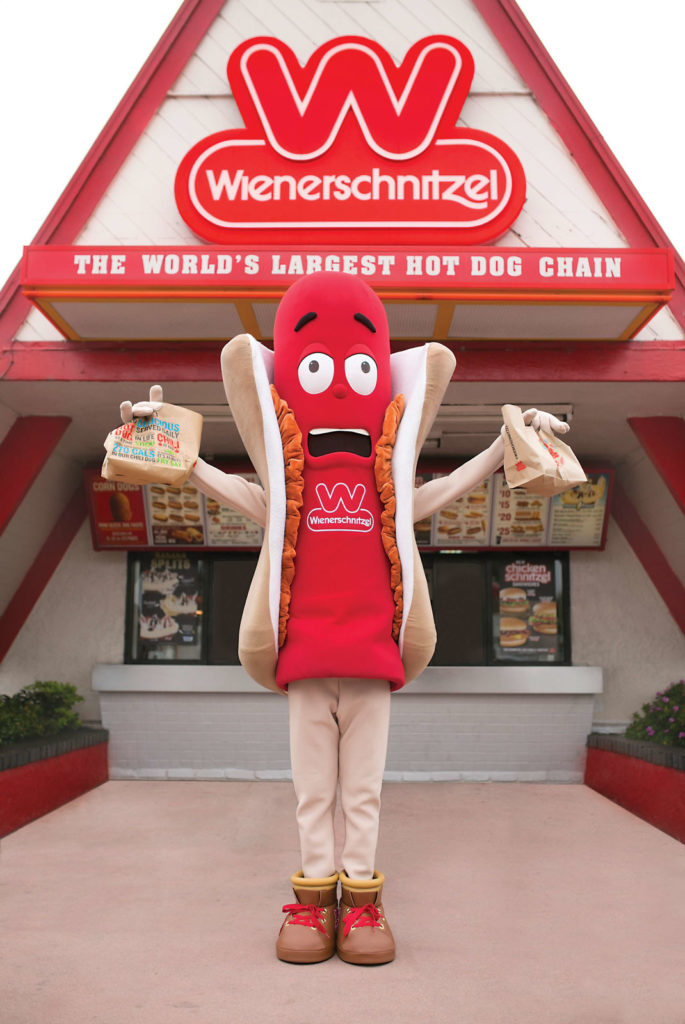 Eight consecutive years of same-store sales increases
Smaller real estate footprint = lower cost of entry
Simple business to operate
25% food and paper costs - well below the industry average for quick service
Privately owned, family-run business
Proprietary hot dog and chili products - outstanding in quality and taste
Refund contingency on your first license fee if we do not mutually find and approve a new site within 12-months of executing your franchise agreement.*
Over $1 Million in average unit sales (top 50% of system*)
The Industry Agrees
Entrepreneur magazine currently ranks Wienerschnitzel as the #87 (up from #126 last year) on its Franchise 500 list, and we're consistently ranked as the No. 1 brand in the hot dog category.
Where are we growing?
With more than 325 locations in ten states, Wienerschnitzel is on the move. We're ramping up franchise development efforts to strengthen our significant footprint in the Southwest, as well as growing the brand into new markets.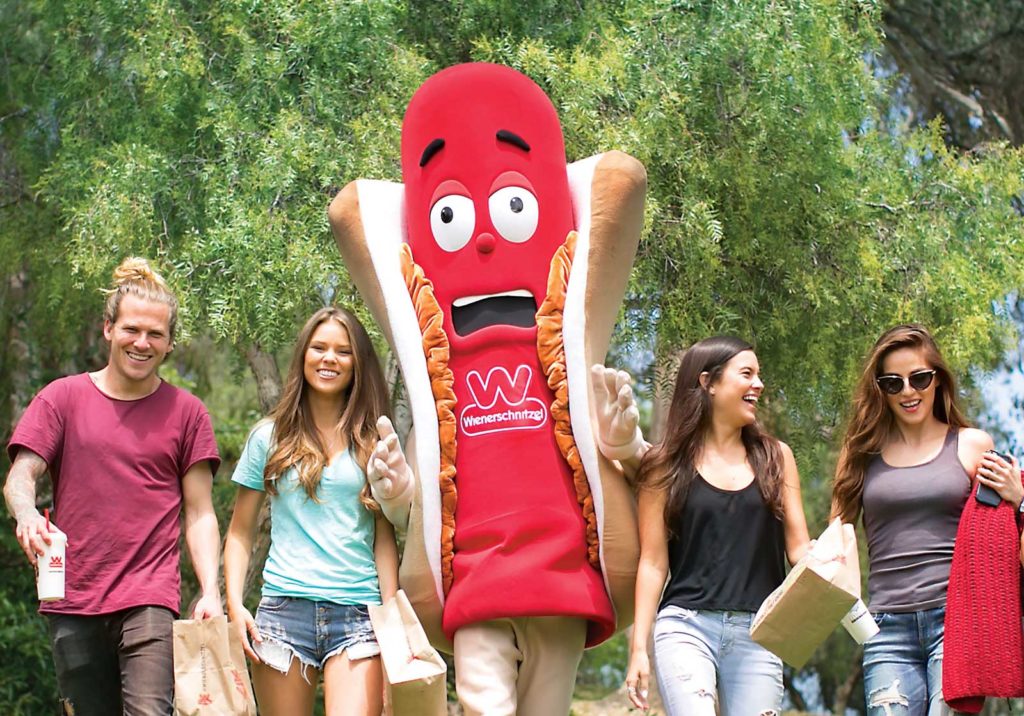 We have new market incentives to make our brand more attractive and affordable to entrepreneurs who want to join our iconic brand:
Wienerschnitzel Growth Opportunities

Single, multi-unit, and select exclusive territories available in existing markets: AZ, CA, CO, NM, NV, UT, WA, TX
NEW market exclusivity available for multi-unit development only:
AL, AR, GA, HI, ID, KS, MO, MS, MT, NE, OK, OR, TN

NEW Area Representative/ Area Development Franchise Opportunities

Exclusive Territory development investment defined by demographic marketing area (DMA)
Open, own and operate a minimum (3) Wienerschnitzel Restaurants or 10% of development schedule in your area

20-year agreement with potential 20-year renewal

Generous development schedule, training and market support to help set you up for success
Earn on-going royalties from all open stores in your market
Ideal Candidate
If you're passionate about bringing the best hot dog experience to your community, and have the leadership, financial qualifications, drive and willingness to succeed, we want to talk to you. Financial requirements include having liquid resources of $250,000 with a net worth of $600,000. These are financial parameters for a sole proprietor, or combined business partners for a single unit.
Begin your discovery of Wienerschnitzel today!
This web page does not constitute a franchise offering or an offer to sell a franchise. A franchise offering can be made by us only in a state if we are first registered, excluded, exempted or otherwise qualified to offer franchises in that state, and only if we provide you with an appropriate franchise disclosure document.
Request Information
Looking for more information about Wienerschnitzel? Take a moment to fill out our quick information request form.