Taboonette® Middleterranean® Kitchen Franchise Opportunity



Financial Information:
| | |
| --- | --- |
| Cash Investment: | $150,000 |
| Net Worth: | $750,000 |
| Franchise Fee: | $30,000 |
| Royalty Fee: | 6% of Gross Sales |
Available Markets:

United States: CT, DE, DC, FL, MA, NH, NJ, NY, NC, OH, PA, RI, SC, TX, VT
Taboonette® Franchise Overview
A franchise offering a fusion of two of the hottest trends in food,
Middle Eastern and Mediterranean.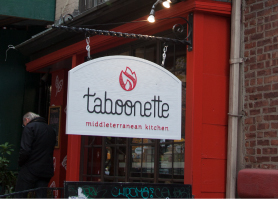 World recognized Chef Efi Naon has won over critics and customers in the toughest market in the world: New York City. The concept originated with the innovative and critically acclaimed full service restaurant Taboon® located in New York's Hell Kitchen. Due to overwhelming consumer demand and constant requests from fans, this fast casual version, Taboonette® was created and launched near Union Square in NYC in 2014. Since then the lines and the fans have grown longer and larger...With our distinctive flavors, healthy dishes, quick service, and a relaxed ambiance, the rush of restaurant goers has become a regular sight in Taboonette®.
Now, you can be part of this fantastic culinary experience as a franchisee of Taboonette. Apply for our Mediterranean and Middle Eastern fast casual franchise.
Running your own Taboonette® means you'll offer an innovative fusion of Middle Eastern and Mediterranean cuisine. Not only are they delicious, but they're also fresh and healthy -- something many diners would appreciate. You'll serve made-from-scratch food from a Chef-driven menu in a lovely and light atmosphere. Each franchise boasts an area of 1800-2000 square feet, easily accommodating up to 40 seats.
Take Advantage Of The Following
Innovated the fusion of Middle Eastern/Mediterranean Cuisine
Widely accepted Mediterranean diet
Unparalleled Customer Loyalty
Great user reviews and food critic awards
Strong Consumer Demand for fresher, more healthful menu items
Experienced Management Team
Training and support from the Taboonette® team, which covers our brand name and trademarks, proprietary products, design, marketing and advertising, and more.
What We Look For In A Franchisee
We're looking for franchisees committed to providing nothing less than a positive customer experience. Our franchisees should uphold our brand culture, which is characterized by smooth operations, excellent guest service, and community involvement.
Apart from financial stability, franchisees should also possess a track record of success, integrity, and passion. They should also have a positive attitude and a desire to succeed. More importantly, they are conscious that they're part of a team -- they are willing to spread the word about our restaurant franchise opportunities and open more Taboonette® restaurants.
Taboonette's Franchise Support Service
As a Taboonette® franchisee you are never alone. You will benefit from Taboonette®'s Unique Competitive Advantages as well as our initial and ongoing support including:
The Taboonette® brand name and trademarks
Proprietary products & recipes including our famous "Hummus and Tahini"
Real estate and project management support
Construction and design assistance
Training for franchisees, managers and employees
Negotiated and approved supply chain
Grand opening marketing support
On-going marketing & advertising assistance
Join Taboonette® today! We've already garnered great reviews, coveted food critic awards, and unparalleled customer loyalty. What's more, you become part of a team that launched a food revolution and continues to challenge and convert the taste buds of even the pickiest diners in the country.
Request Information
Looking for more information about Taboonette® Middleterranean® Kitchen? Take a moment to fill out our quick information request form.