SONIC Franchise Opportunity
Sonic is a great and established brand that is penetrating some of the nation's best markets. The potential for growth is so exciting and my family feels so lucky to be a part of it.
The SONIC business has been very rewarding in many ways to me and my family. While there are so many things different about SONIC today, the fundamentals of the SONIC business and the vision of Troy Smith have remained constant through the years.

Financial Information:
| | |
| --- | --- |
| Cash Investment: | $500,000 |
| Net Worth: | $1,000,000 |
| Franchise Fee: | $45,000 |
| Total Investment: | $1,020,000 - $1,770,000 |
Available Markets:

United States: FL, GA, IL, IN, OR, PA, WI
Why is Now a Great Time to
Invest in a SONIC Franchise?
Increasing revenue, balanced dayparts and open territory make it a great time to own a SONIC franchise
SONIC® is one of the most loved brands in America, and for entrepreneurs, SONIC is also one of the brightest investment opportunities. As one of the pioneers of customization, SONIC has won millions of fans by providing one of the most forward thinking menus in the QSR industry. By including all five day-parts, and introducing new items at a constant clip, SONIC provides its customers with a universe of options at any time of day or night. SONIC is also enormously effective at getting its message to consumers directly, through wildly successful television campaign that continues to grow brand equity in markets where SONIC has yet to enter.
The rise of SONIC as a national brand is likewise attracting savvy entrepreneurs to open new SONIC franchise locations in new markets. With over 3,500 locations open in the United States, the brand is not only the largest drive-in franchise, but is also one of the most enduring; in over 60 years in business, SONIC has helped hundreds of entrepreneurs realize their dreams of small business ownership. Led by an executive team that emphasizes innovation, embraces technological advancements, listens to its rapidly growing franchise network and provides exceptional support, SONIC is the rare national brand with wide-open territory and a bright future.
What are the top reasons to invest in a SONIC franchise?
Backed by a best-in-class franchise support team.
Constant emphasis on menu innovation.
Highly popular, visible national advertising.
Investment in new technology, such as a revolutionary mobile app.
A variety of franchise models to fit your market.
SONIC franchise owners saw average gross sales-by-store increase from $1,072,000 in 2012 to $1,283,000 in 2016, with 27 percent of our stores exceeding $1.5 million in gross sales in fiscal year 2016.
Dynamic Menu
At SONIC®, we keep our carhops hopping and our customers happy with a profitable and popular menu that's appealing day or night, whether diners want a chili cheese dog, a cherry limeade or a traditional burger. The variety that SONIC provides throughout our five strong, balanced and distinct dayparts is unmatched by competitors who are typically just known as "the burger place" or "the chicken place." Other QSR concepts and burger franchises have only one or two strong dayparts; SONIC is busy serving fresh, hot items morning through night.
Our SONIC Franchise Models
We offer franchise models beyond our traditional drive-in franchise to meet growing demand in expanding markets.
SONIC Traditional Drive-In Franchise: Our original drive-in model is the core of our business. This standard store layout typically features 16 to 24 drive-in stalls, patio seating and requires a site that is approximately ¾ of an acre for optimum build-out.
SONIC Indoor Dining Model: Our newly designed indoor dining rooms are ideally suited for the colder weather. These models also offer patio seating, as well as a drive-thru.
SONIC Plaza Travel Model: SONIC end-cap units as part of busy travel plazas have done well as travelers on busy thoroughfares look for familiar dining options that are consistently high-quality and high-value. This model typically does not include the familiar parking stalls and canopies found in the traditional SONIC Drive-In.
SONIC Conversion Model: We can work with franchisees to convert existing restaurant facilities into a SONIC restaurant in the most cost-effective way possible, utilizing the existing kitchen, dining area and patron restrooms facilities.
SONIC Counter Service Model: The counter-service model does well in airports and busy mall and campus food courts where foot traffic is high. This model is true to our strong branding and stellar food quality and customer service. The dessert line is included behind the service counter.
Commitment to technology
SONIC® is the forward-thinking QSR franchise leveraging new technology to improve the customer experience. The latest advancement is an easy-to-use app.
Whether brand new to SONIC or a longtime and loyal customer, the app is making the drive-in experience more convenient than ever before. It's menu perfectly mirrors the look and feel of SONIC's iconic drive-thru menu screens in a fun and interactive way. The app also has key features which are personalizing the SONIC experience for customers who are:
Finding the closest SONIC Drive-In locations and hours in their area.
Browsing the menu and checking out nutritional information.
Conveniently paying for orders through the app.
Sending and receiving gift cards in exciting new designs to friends and family.
Loading and reloading their MySONIC cards.
Receiving monthly rewards.
Viewing new promotions and specials on the app's menu screen.
Experience Needed:
Active ownership in your SONIC restaurants.
Restaurant background required by at least one operating partner.
Ability to develop, lead and inspire a management team.
Strong entrepreneurial skills.
Active in community.
Retail sales.
Ready to learn more about how we SONIC?


REQUEST INFORMATION NOW TO KNOW MORE ABOUT OUR SONIC FRANCHISE OPPORTUNITIES!

The decision to invest in the SONIC franchise system is a much wiser investment than going into business alone. For over 60 years, SONIC has helped entrepreneurs become meaningful members of their community by realizing their full potential as part one of the most iconic QSR brands in the country.

A brand can't remain at the top of the food chain without providing an extensive training platform for its franchisees. SONIC takes training and ongoing education incredibly seriously because we recognize that franchisees invest large amounts of time and money in good faith, expecting that our proven business model will provide a better life for themselves and their families.

As part of the SONIC franchise family, your business will be fully supported from the moment you sign your franchise agreement. Watch this short clip of SONIC President Claudia San Pedro explaining how SONIC goes above and beyond to offer an industry-leading support platform:
Development
SONIC® will assist you at multiple phases of the development process, from real estate site selection to site design. Other types of assistance provided by our development team include:
Architectural building design & engineering support
Review of site during due diligence phase
Approved contractors list
Bid review and comparison
Construction project management guidance
Assistance with development of construction schedule timeline
A preferred vendor list
Operations / Training
SONIC provides a structured and comprehensive training program that includes support from the discovery process to opening a new drive-in franchise and much more. We are constantly working to evolve our training and support to assist our franchisees in multiple aspects of their SONIC life.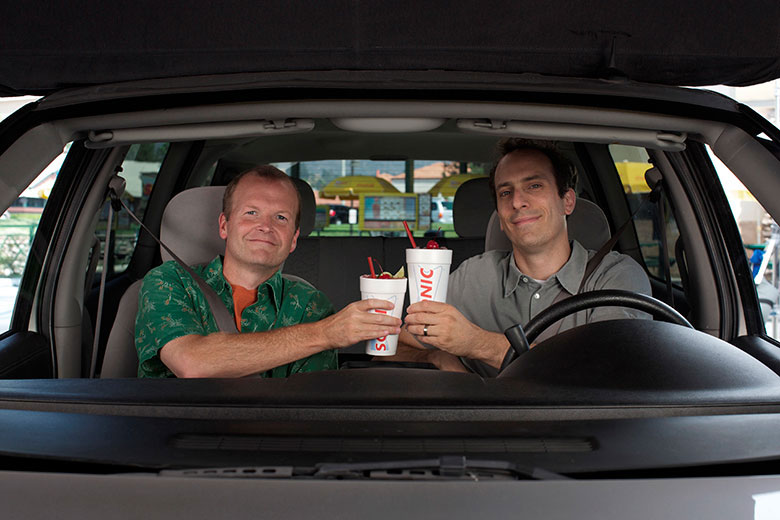 SONIC E-Learning
In addition to the field training sessions, we also provide SONIC eLearning. SONIC eLearning is a great example of how SONIC embraces technology to engage today's busy franchisees and SONIC staffers. SONIC provides certified training courses online such as operations, food safety, customer service and management training for our new and existing franchisee community.
Marketing
SONIC has significant brand presence through our national advertising campaign. This is designed to increase customer awareness of the SONIC brand and our delicious food and drink variety, nationwide.
SONIC's branding efforts are immediately recognizable and memorable, working on multiple levels to drive sales and build customer loyalty.
Our campaigns showcase the on-lot experience. They can be integrated across multiple day-parts. Our ad campaign focuses on our food and drink and fits well with social media initiatives. Our Two Guys, and new Two Girls, ads are fun and use light-hearted comedy that appeals to a wide audience.
Technology
SONIC is always upgrading its technology to benefit operations and generate revenue for franchises. Our new mobile app, for example, is making the drive-in experience more convenient than ever before. The app has key features that are personalizing the SONIC experience for customers. Read our blog to learn more!
Additional Support
National purchasing program
Product innovations
Staff selection training
Request Information
Looking for more information about Sonic Drive-In? Take a moment to fill out our quick information request form.