IFPG Business Opportunity
Financial Information:
| | |
| --- | --- |
| Total Investment: | $19,900 |
Available Markets:

United States: AL, AK, AZ, AR, CA, CO, CT, DE, DC, FL, GA, HI, ID, IL, IN, IA, KS, KY, LA, ME, MD, MA, MI, MN, MS, MO, MT, NE, NV, NH, NJ, NM, NY, NC, ND, OH, OK, OR, PA, RI, SC, SD, TN, TX, UT, VT, VA, WA, WV, WI, WY
Are you ready to start a
lucrative career as a Franchise Consultant?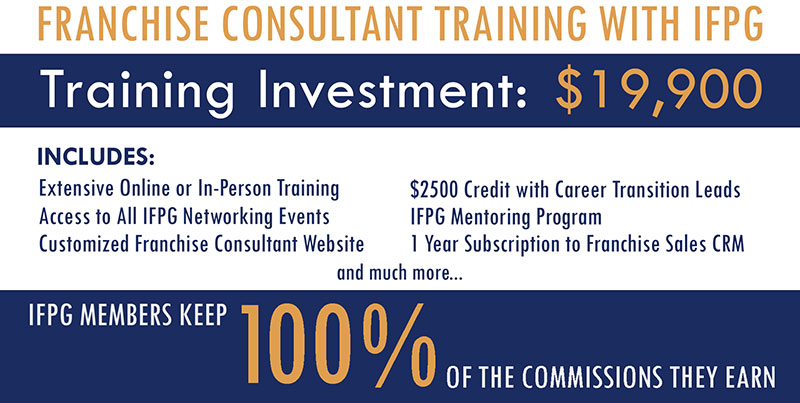 Definition of a Franchise Consultant
Franchise Consultants assist people that are researching becoming franchise owners with the franchise selection, evaluation and buying process as well as helping them access the capital to own and operate that franchise.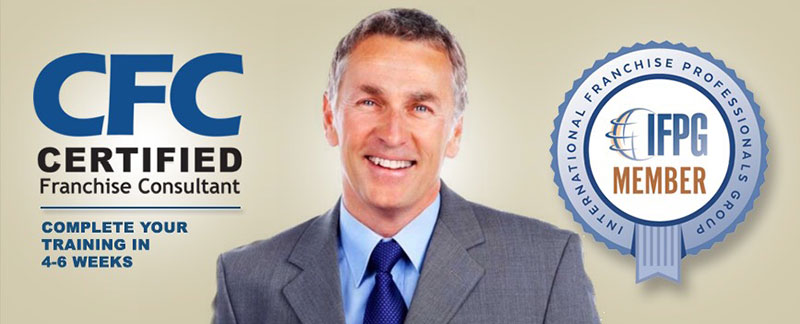 What's Included In My Training?
Leads - $2500 of Career Transition Leads
Website - $1200 Franchise Consultant Website
CRM - $1068 One Year Subscription to FranchiseSalesCRM
Annual Event - $495 Registration for IFPG Retreat
That is over $5000 included in your $19,900 Training Fee!
Our Top Producer Program Is Included In Your Training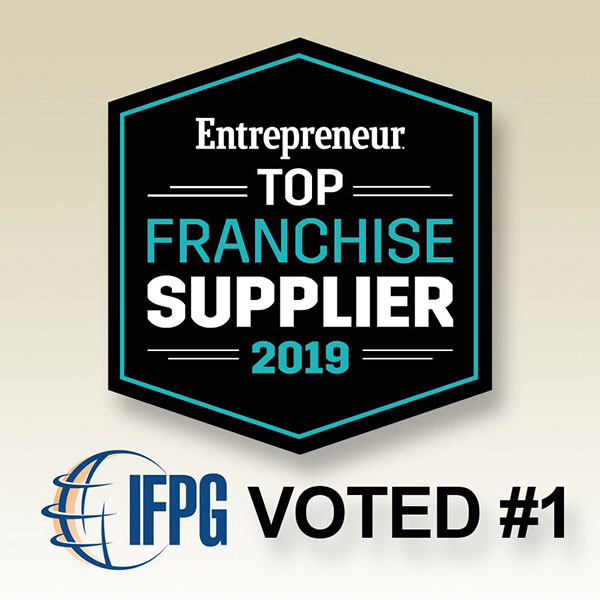 The IFPG is dedicated to your continued success. Immediately after your training you will be placed in our IFPG Top Producer Program. Our Top Producer Program is presented by a seasoned franchise consultant and is a small group of less than 10 consultants.
You'll have a chance to bring real life, real time situations from your consulting business to an expert and discuss in a group mentoring session. In addition to this program the IFPG offers over 150 continuing education hours per year at no additional fee.
IFPG Programs Included With Your Training
Certified Franchise Consultant (CFC) Certification - The IFPG is pleased to offer the Certified Franchise Consultant (CFC) program as an opportunity for our members to enhance their skills, and assist them in continued professional development. Setting yourself apart by meeting the requirements of the program will lead to the CFC designation.
Franchise Sales CRM - Meet the simplest, most effective franchise sales CRM. A CRM built specifically for franchise sales. Increase your contact ratio with our email automation and automated calendar scheduler. Track your leads from initial discussions to closed deal. Email automation, automatic calendar scheduler, customized sales process, and analytics built specifically for franchise sales.
Career Transition Leads - Career in transition leads are individuals looking to exit corporate America to enter a franchise business opportunity. Through in-depth conversations with our appointment setters, these individuals have expressed great interest in working with a knowledgeable franchise consultant-- one who can guide them to the right investment opportunity.
IFPG Digital - We know your business. Let us handle all of your digital marketing needs. We offer full Website Development, SEO, Content Marketing, Pay Per Click, Social Media Management and more.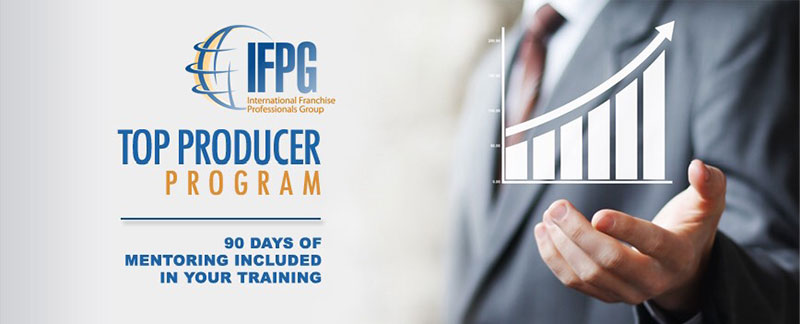 IFPG Franchise Consultant Training - What's Included?
Extensive Online Or In-Person Training
Hours of extensive training on multiple topics that you will need to be a successful Franchise Consultant
CFC (Certified Franchise Consultant) Designation
This program is an opportunity for our members to enhance their skills, and assist them in continued professional development. This designation is crucial if want your level of expertise to be recognized by your clients and franchisors.
Customized Franchise Consultant Website - A $1199 Value Included
You will receive an IFPG Franchise Broker website with your logo, company name and colors. Your website is integrated with the IFPG portfolio of franchises and also includes a few pages of professionally written content. On day one, you will have a fully functional broker website.
1 Year Subscription To Franchise Sales CRM - A $1068 Value Included
FranchiseSalesCRM.com was built by IFPG and made specifically for franchise sales. Integrated with the IFPG system and created to follow the same sales process you will learn in training.
IFPG Mentoring Program
Receive additional guidance with weekly calls hosted by an experienced IFPG Member Mentor.
CFC Impact Sessions
After your training you can immediately take advantage of our IFPG Impact sessions. Continue to learn more about the business, best practices and get some tips and tricks about what the most successful brokers do. Each session earns you CFC Credits that help you maintain your CFC Designation.
$2500 Credit With Career Transition Leads - A $2500 Value Included
Career Transition Leads is an IFPG company. The leads are real time, call verified and exclusive to IFPG brokers only. These are the leads are seasoned IFPG brokers are using.
Access to All IFPG Networking Events
Includes FREE registration to IFPG Retreat - A $495 Value. Rub elbows and trade business cards with the BEST in the business at all of the industry's top conferences and events.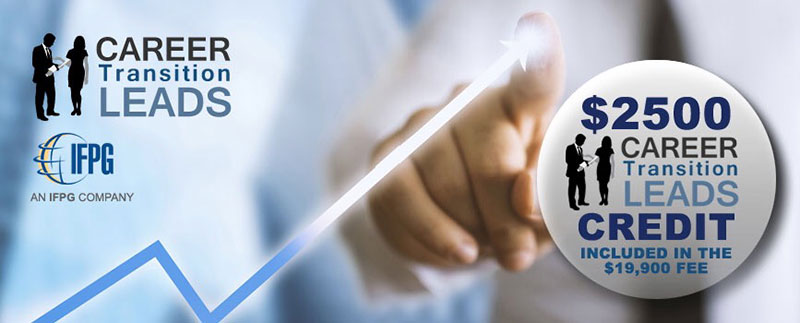 Be in business for yourself today
at the lowest price in the industry
Start your own business at the lowest price in the industry today. Only $19,900. Take the first step now. Complete the contact form to get all the details.
Request Information
Looking for more information about IFPG? Take a moment to fill out our quick information request form.