Green Home Solutions® Franchise Opportunity

Financial Information:
| | |
| --- | --- |
| Cash Investment: | $75,000 |
| Franchise Fee: | $9,000 - $20,000 |
| Total Investment: | $56,100 - $124,100 |
Available Markets:

United States: AL, AK, AZ, AR, CA, CO, CT, DE, DC, FL, GA, HI, ID, IL, IN, IA, KS, KY, LA, ME, MD, MA, MI, MN, MS, MO, MT, NE, NV, NH, NJ, NM, NY, NC, ND, OH, OK, OR, PA, RI, SC, SD, TN, TX, UT, VT, VA, WA, WV, WI, WY
Join The Franchise That Makes Air Better.
Green Home Solutions Franchise Owners are passionate about providing healthy indoor environments for homeowners and businesses in their communities. Our low-investment, high-margin business model makes it an attractive way for you to own a business of your own, as you help create a cleaner world.
Let's Make The World A Better Place.
If you are looking for a low start-up investment, home-based franchise opportunity that is in-demand and has huge market potential, look no further. Air quality improvements is a $5.6 billion industry and is predicted to grow even bigger as homeowners look for ways to live cleaner and greener. Green Home Solutions is the leader in helping people and businesses breathe easier with plant-based products that improve, rather than harm, the environment.
Keeping Environments Healthy Is What We Do.
1⁄3 - 1⁄2 One third to one half of all structures have damp conditions that may encourage development of pollutants such as molds and bacteria, which can cause allergic reactions -- including asthma -- and spread infectious diseases.

4.6 Million Of the 21.8 million people reported to have asthma in the U.S., approximately 4.6 million cases are estimated to be attributable to dampness and mold exposure in the home.
[EPA-Berkeley National Laboratory Study, 2007]
$3.5 Billion The national annual cost of asthma that is attributable to dampness and mold exposure in the home is $3.5 billion.
[EPA-Berkeley National Laboratory Study, 2007]
Green Home Solutions Offers A Better Way To Beat Mold.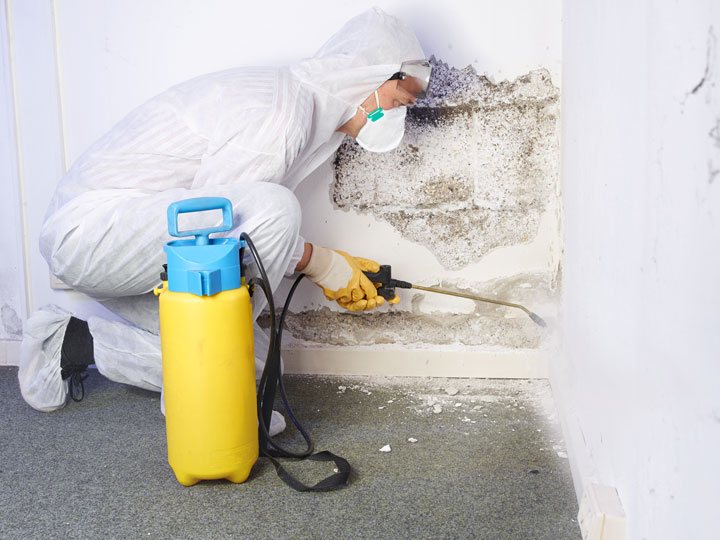 Our approach to mold remediation is very different from other companies because our products are made using plant-based ingredients rather than harsh chemicals. When used as directed, our EPA-registered products kill mold and its suspected harmful effects in a fast, affordable manner.
In addition to mold remediation, there are many services you can offer to improve your bottom line. These include:
Dehumidifiers
Duct Cleaning
Odor Elimination
Crawlspace Encapsulation
Residential and Commercial Mold Remediation
Air Quality Testing
ProBiotic Indoor Air Quality Maintenance
Disinfectant Implementation to Restore Indoor Ecological Environment
Passion. Potential. Profitability.
We are looking for franchisees to join the Green Home Solutions family who enjoy helping people and want unlimited potential in a rapidly growing home service, mold removal, and remediation market. If you can answer yes to these questions, you may be the perfect candidate.
Do you have a strong desire to create a legacy?
Are you a self-starter with an entrepreneurial spirit?
Do you have good interpersonal skills and a great attitude?
Do you enjoy building relationships and contributing to your community?
Are you willing to invest in the right people?
Do you excel at being a team player?
Do you have a strong work ethic and the morals and mindset to deliver exceptional customer service?
These characteristics ensure that our franchisee community is made up of like-minded entrepreneurs who are committed to the success of their individual franchise businesses and ultimately contributing to the successful growth of the Green Home Solutions brand.
Demand for our services that improve indoor air is inspiring our Franchise Owners to own more territories and help more people. See how you could improve people's lives while you enjoy a better quality of life. Become a multi-unit Franchise Owner with Green Home Solutions.
This web page does not constitute a franchise offering or an offer to sell a franchise. A franchise offering can be made by us only in a state if we are first registered, excluded, exempted or otherwise qualified to offer franchises in that state, and only if we provide you with an appropriate franchise disclosure document.
Request Information
Looking for more information about Green Home Solutions®? Take a moment to fill out our quick information request form.