Greenberry's Coffee Co. Franchise Opportunity
Financial Information:
| | |
| --- | --- |
| Cash Investment: | $140,000 |
| Net Worth: | $350,000 |
| Royalty Fee: | 6% of net sales |
| Advertising Fee: | 1% of net sales |
Available Markets:

United States: AL, AK, AZ, AR, CA, CO, CT, DE, DC, FL, GA, HI, ID, IL, IN, IA, KS, KY, LA, ME, MD, MA, MI, MN, MS, MO, MT, NE, NV, NH, NJ, NM, NY, NC, ND, OH, OK, OR, PA, RI, SC, SD, TN, TX, UT, VT, VA, WA, WV, WI, WY
Africa: DZA, EGY, LBY, MAR, SDN, TUN, ESH
Asia: AFG, ARM, AZE, BHR, BGD, BTN, IOT, BRN, KHM, CHN, CXR, CCK, TMP, GEO, HKG, IND, IDN, IRN, IRQ, ISR, JPN, JOR, KAZ, KWT, KGZ, LAO, LBN, MAC, MYS, MDV, MNG, MMR, NPL, PRK, OMN, PAK, PHL, QAT, SAU, SGP, KOR, LKA, SYR, TWN, TJK, THA, TKM, ARE, UZB, VNM, YEM
Europe: ALB, AND, AUT, BLR, BEL, BIH, BGR, CYP, CZE, DNK, EST, FRO, FIN, FRA, DEU, GIB, GRC, VAT, HRV, HUN, ISL, IRL, ITA, LVA, LIE, LTU, LUX, MKD, MLT, MCO, NLD, NOR, POL, PRT, MDA, ROU, RUS, SMR, SVK, SVN, ESP, SJM, SWE, CHE, TUR, UKR, GBR
International Opportunities Available
Why Greenberry's Coffee Co.?
Our goal, every day, is to provide our customers with the best products and finest service in a clean and friendly environment.
We care.
We are knowledgeable.
We are dedicated.
We are consistent.
We offer only the highest quality of products, using the freshest ingredients.
Equipped with over twenty five years of coffee roasting experience and a broad range of food service solutions, Greenberry's Coffee Co. has expanded regionally and internationally. Maintaining the home away from home feel of the stores has kept the atmosphere consistent through a variety of locations and markets, bringing the charm of Greenberry's to customers across the globe.
Every Greenberry's Coffee Shop around the world has an individual, local flavor, yet is supported by a franchise network with proven systems and procedures. Through this network, we are able to offer the highest quality coffees and teas from all over the world, delicious pastries baked on-site daily and an extensive food program developed by our in-house Executive Chef.
From assisting you in finding the perfect location, guiding you through construction & design, training you and your staff in all areas of owning a Greenberry's Coffee Co., to ongoing support throughout your business lifecycle, we are here for you every step of the way to ensure that you are always on the right path for success!
Once you become the owner of a Greenberry's Coffee Co. franchise, our team will start helping guide you through the decision making process. Assistance in design and construction is provided as well as product sourcing and vendor negotiations.
The mission is simple: we serve great coffee and delicious, affordable food using the freshest ingredients that guests will want to return to week after week.
Whether dining in or on the go, we have a large variety of breakfast & lunch options for all tastes and diets, including gluten free, dairy free, vegan and vegetarian options!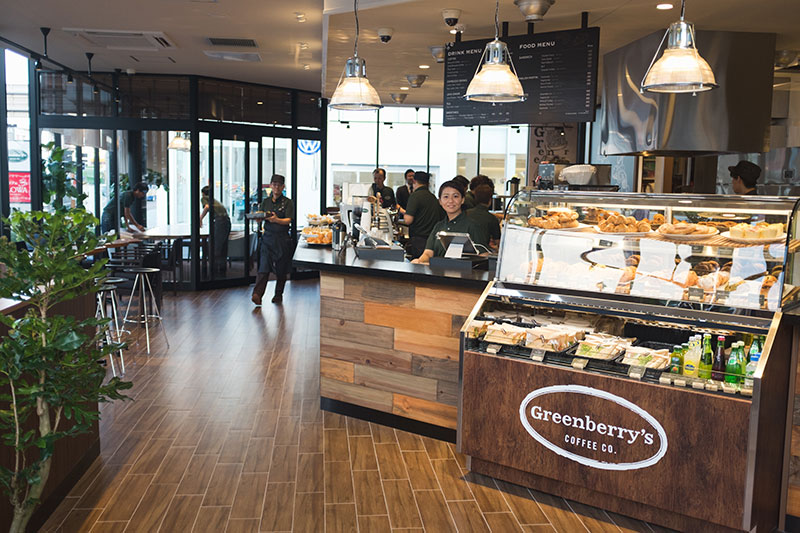 Why is Greenberry's Coffee Co. the right business for you?
Because at Greenberry's Coffee Co. we have:
The Right Products

The finest high quality Arabica beans
Coffee beans purchased from small estates and farms from around the world
Coffee that is roasted in our own facility in order to maintain the highest standards
Small batch roasting to ensure freshness
Premium teas selected from around the world
Premium pastries baked on-site daily

The Right Design

Custom designed for the "home away from home" experience
Sustainable materials used when available
Rich hardwood floors and cabinets
Solid wood tables and chairs
Optional fireplace

The Right Location - Guidance on store location attention to demographics, traffic flow, population growth, real estate values, zoning regulations, and existing competition
The Right Atmosphere - A place to meet, talk, share ideas, read and work, a part of the community, a "home away from home" for our customers, a place that is warm, inviting, and very friendly, a place where you know your customers by name
The Right Focus - Staffed by knowledgeable, friendly, and highly-trained people Participation in the community Lead by dedicated franchisees
Training & Support
Training in Virginia
Training in Territory
Master Franchise Training

Sub-franchising
1 week in Virginia

Greenberry's visit to your territory
Master Franchise
Exclusivity of Territory
Flexibility

Sites: Multiple types
Size of sites
Menu: scale to site size

Development Vision

Master Franchise Owned (all)
and/or Sub-franchising (mixed
Request Information
Looking for more information about Greenberry's Coffee Co.? Take a moment to fill out our quick information request form.