Freshii Franchise Opportunity
Financial Information:
| | |
| --- | --- |
| Cash Investment: | $125,000 |
| Net Worth: | $300,000 |
| Franchise Fee: | $30,000 |
| Total Investment: | $170,000 - $470,500 |
| Royalty Fee: | 6% |
| Advertising Fee: | 1.5% |
Available Markets:

Canada:
United States: AL, AK, AZ, AR, CA, CO, CT, DE, DC, FL, GA, HI, ID, IL, IN, IA, KS, KY, LA, ME, MD, MA, MI, MN, MS, MO, MT, NE, NV, NH, NJ, NM, NY, NC, ND, OH, OK, OR, PA, RI, SC, SD, TN, TX, UT, VT, VA, WA, WV, WI, WY
Eat. Energize. That's the Freshii mantra.
Since opening in 2005, Freshii has been on a mission to change the way the world eats. By making superfoods like kale and quinoa convenient and affordable in cravable menu items, while continuing to introduce the latest culinary health trends, Freshii is truly redefining the fast-casual space. With hundreds of restaurants in cities, college campuses, hospitals and airports around the globe, the brand is growing at a speed faster than any other restaurant in the world. Today, Freshii has over 350 restaurants in 15 countries and is growing rapidly. The leading healthy casual brand expects to have between 730 - 760 restaurants open by the end of 2019.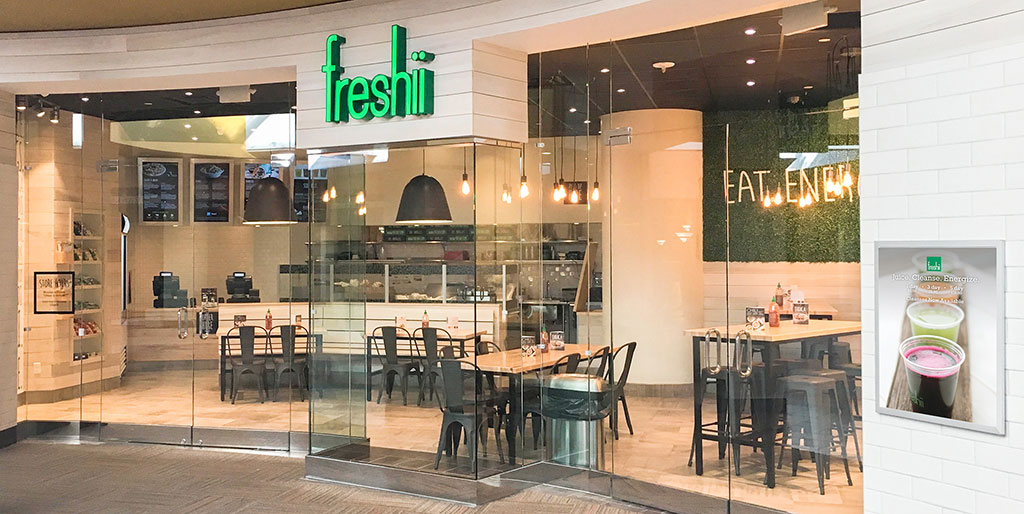 Freshii's Mission is straightforward:
To help the citizens of the world live better by making healthy food convenient and affordable. Not only has the demand for what Freshii's menu offers been very high with its guests, so has the demand for Freshii ownership - from first-time entrepreneurs to experienced multi-unit operators of other brands. Both have found that Freshii ownership is convenient and affordable is well. Freshii locations range from 250 - 2,500 square feet. Their flexible formats, along with the fact that they don't require ovens, stoves, venting, hoods or grease traps, lets Freshii owners take advantage of leasing opportunities that are not available to most brands.
What has made Freshii's growth even more remarkable is the fact that, up until this year, they have never done any franchise advertising. The best 'advertising' for Freshii is their constantly evolving menu. Freshii's in-house nutritionist , along with its menu innovation team, is forever testing and tasting the latest food trends from around the world, and then finding ways to bring them to the markets they serve conveniently and affordably. It's difficult to find another fast casual spot that's led by nutrition in the same way Freshii is and on its scale. Freshii has 7 different menu categories - bowls, burritos, salads, wraps, soups, smoothies & juices - and each one is full of innovation. This is why Freshii has such a loyal and repeatable base of guests. People love the fact that they can eat at Freshii multiple times a week, even multiple times a day, and have something completely different on each visit - yet love it all!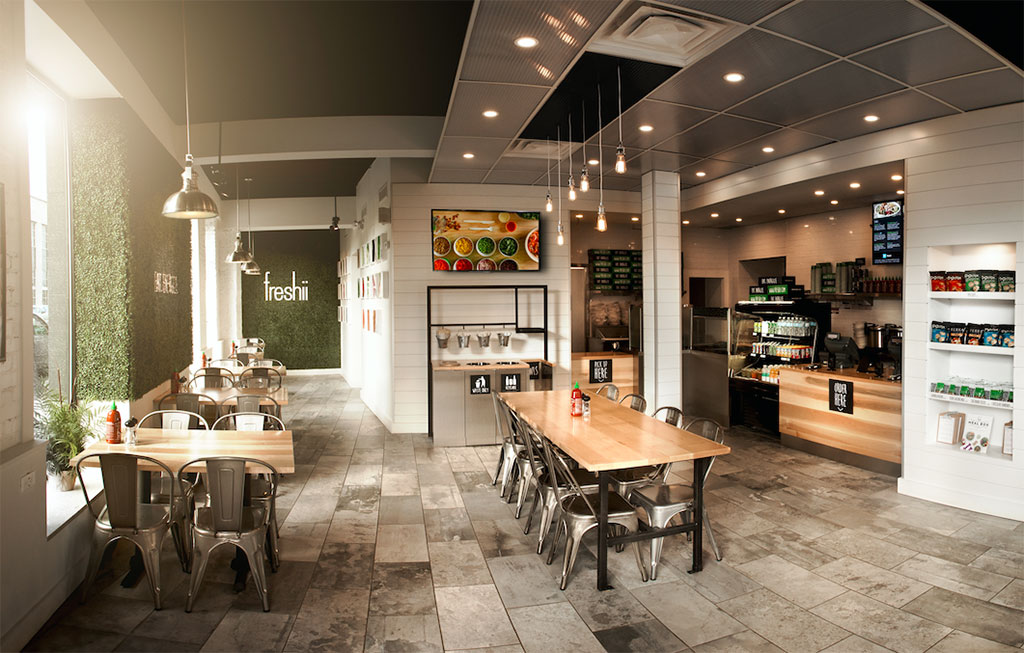 Freshii is an experiential brand, and their guests feel just as good about their visit to the restaurant as they do about the good they are doing for their bodies. To create that 'Freshii experience', the company is looking for passionate owners who will deliver on the three benchmarks for success: Excel at following the established proven operational systems and create a phenomenal guest experience; be the employer-of-choice in their markets for guest-focused hourly team members; and be actively involved in community outreach.
New franchise partners receive all-inclusive assistance in opening their Freshii to achieve their success goals. This includes:
Comprehensive market analysis
Compete site selection assistance and lease negotiations
Store design and build out
Extensive training at Freshii HQ for certification in all aspects of store operations
One-source supply chain with negotiated pricing for everything needed in the restaurant
Two week onsite training at opening to support owners and managers with new staff
Full marketing support before and during grand opening, as well as ongoing
In-field and corporate support teams to assist at every level to help franchise partners achieve their goals.
Request Information
Looking for more information about Freshii? Take a moment to fill out our quick information request form.