Financial Information:
| | |
| --- | --- |
| Cash Investment: | $250,000 |
| Net Worth: | $1,000,000 |
| Franchise Fee: | $40,000 |
| Total Investment: | $900,000 - $1,755,000 |
| Royalty Fee: | 5% |
| Advertising Fee: | 5% |
Available Markets:

United States: AL, AK, AZ, AR, CA, CO, CT, DE, DC, FL, GA, HI, ID, IL, IN, IA, KS, KY, LA, ME, MD, MA, MI, MN, MS, MO, MT, NE, NV, NH, NJ, NM, NY, NC, ND, OH, OK, OR, PA, RI, SC, SD, TN, TX, UT, VT, VA, WA, WV, WI, WY
Our Story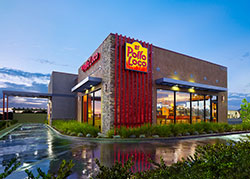 The secret to El Pollo Loco® is great-tasting food. Our menu has a broad and deep consumer acceptance across a wide span of demographic and socioeconomic sectors - and it's a healthier alternative to traditional fast food.
It all began in 1980 when El Pollo Loco opened its very first location on Alvarado Street in Los Angeles. It featured an authentic family recipe of chicken marinated in special herbs, spices and citrus juices, and then fire-grilled to perfection. The restaurant quickly became a local favorite.

Today, the tradition continues with signature dishes that satisfy consumers' desire for flavorful food that fits well with today's active lifestyles. We're currently fire-grilling marinated chicken in more than 400 company and franchise-owned El Pollo Loco restaurants.
Marketing
El Pollo Loco's marketing team of experience executives and management is dedicated to providing first-class marketing support.
Aligned with award-winning advertising and PR agencies
Utilizes a strategic approach to building a strong brand
Focused on driving traffic and sales
We provide a full array of targeted advertising tools and marketing plans to build awareness and drive customers into our restaurants.
Innovative marketing and advertising
Product innovation to fuel sustained growth
Marketing plans tailored to each market's needs
Support for grand openings
Effective communication and support of franchisees' needs
Uses a number of strategic marketing channels to educate and entice our consumers including: television, in-store materials, print, social media, public relations and word of mouth advertising generated by our fan base
Unique Brand Position
Freestanding endcap, or endcap with drive-thru options
Unique concept with QSR+ positioning
50/50 lunch/dinner daypart mix
Appeals to wide variety of consumers across different ethnic, gender, age and income demographics
Aligned with industry trends: increasing preference for fresher, healthier restaurant offerings and popularity of bolder, spicier flavors.
The El Pollo Loco Difference
El Pollo Loco is squarely aligned with a large and growing consumer base of time pressured, mainstream foodies seeking real food at reasonable prices. We define this emerging opportunity as QSR+. Our target customer is one who is more discerning and who views our food on par with high quality restaurant fare - yet at a better value than typical fast casual chains. We build long term relationships with our consumers by delivering El Pollo Loco's total brand experience which includes appealing to their need for authentic, healthier and innovative offerings in a warm and friendly environment.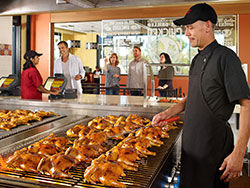 Great-tasting food
At El Pollo Loco everything starts with our chicken - marinated in a signature recipe of herbs, spices, garlic and fruit juices. It is then fire-grilled, hand-cut and served hot off the grill with warm tortillas, freshly prepared salsas, and a wide assortment of side dishes. Rounding out the menu are flavorful entrees inspired by the kitchens of Mexico, including grilled burritos, salads, tacos, quesadillas and our original Pollo Bowl
Environment
El Pollo Loco's new Hacienda design puts our signature Fire-Grilled Chicken on center stage. With floor to ceiling windows and an open-air kitchen, guests see the heart of the brand at first glance. The new concept combines the distinct Mexican heritage with an elevated and up-to-date feel. The dining room's warm color décor guides customers on a brand journey while they enjoy their favorite meal.
Request Information
Looking for more information about El Pollo Loco? Take a moment to fill out our quick information request form.