Dickey's Barbecue Pit® Franchise Opportunity
Before I invested with Dickey's I researched several barbecue concepts. I knew I wanted to add a barbecue restaurant to my portfolio and I went with Dickey's because the product was high-quality and simple. I currently own seven Dickey's locations with my brother, and we have been in business with Dickey's for seven years. We kept seeing great success with each store opening, so we kept coming back for more. Overall, Dickey's has evolved to meet the needs of today's guests with advances such as online ordering and third party sales, which is great for attracting new people to try our barbecue. Sales trends come and go, but quality food is what keeps us steady.
I am happy to serve Texas-style barbecue to my community in Camp Hill. We frequently have new guests come in for the first time. In one example, a family of seven recently came into my store and we worked to make them feel at home. We explained all about how we smoke our meats daily and offered free samples so they would know what to order. I think we made at least seven new loyal guests that day.

Financial Information:
| | |
| --- | --- |
| Cash Investment: | $100,000 |
| Franchise Fee: | $20,000 |
| Total Investment: | $290,000 - $425,000 |
| Royalty Fee: | 5% |
| Advertising Fee: | 4% |
Available Markets:

Canada: AB, BC, MB, NB, NL, NT, NS, ON, PE, PQ, SK, YT
United States: AL, AK, AZ, AR, CA, CO, CT, DE, DC, FL, GA, HI, ID, IL, IN, IA, KS, KY, LA, ME, MD, MA, MI, MN, MS, MO, MT, NE, NV, NH, NJ, NM, NY, NC, ND, OH, OK, OR, PA, RI, SC, SD, TN, TX, UT, VT, VA, WA, WV, WI, WY
Africa: MAR, ZAF, TUN
Asia: CHN, HKG, IND, IDN, JPN, JOR, PHL, SGP, KOR, TWN, THA, VNM
Europe: ALB, AND, AUT, BLR, BEL, BIH, BGR, CYP, CZE, DNK, EST, FRO, FIN, FRA, DEU, GIB, GRC, VAT, HRV, HUN, ISL, IRL, ITA, LVA, LIE, LTU, LUX, MKD, MLT, MCO, NLD, NOR, POL, PRT, MDA, ROU, RUS, SMR, SVK, SVN, ESP, SJM, SWE, CHE, TUR, UKR, GBR
Latin America: ARG, BRA, CHL, COL, ECU, HND, MEX, PRY, PER, URY
Oceania: AUS
International Opportunities Available
Dickey's Barbecue Pit® Franchising: Join Our Family!
At Dickey's Barbecue Pit, we are passionate about the art of great barbecue! And we are proud to be the largest barbecue franchise in the world.
Our History
Dickey's Barbecue Pit prides itself on authenticity, innovation and mouthwatering hickory-smoked barbecue. In 1941, Travis Dickey opened the first location in Dallas, Texas. Franchising began in 1994 after loyal guests and barbecue fanatics demanded more locations. Roland Dickey, Jr. became Chief Executive Officer in 2006 continuing the family tradition. As the fast-casual chain racks up recognition, the Dickey family still serves up the same quality barbecue recipes handed down for generations coupled with the same brand of southern hospitality, only on a much larger scale. The fast-casual concept has expanded to more than 550 stores in 44 states with international locations slated to open in late 2018.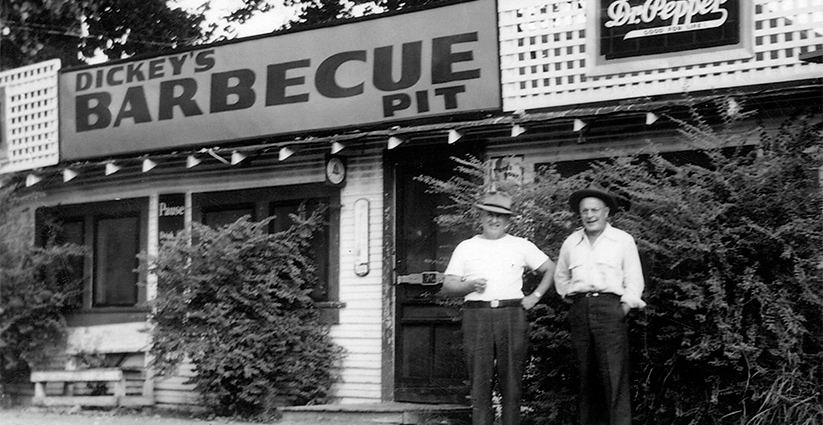 What Sets Us Apart
Established Brand: Over 77 years of experience preparing, smoking, and serving the community
Six Revenue Streams: Dine-in/Take-out, Catering, Online Ordering, Delivery, Holiday Meals and Retail Items
Low Cost Franchise Fees with Protected Territories
Turnkey Business Model with Support before, during and after your grand opening
Innovative IT Solutions
At Dickey's, we focus on the authenticity of the food and only offer sustainably raised meats
Each new Owner/Operator is fully immersed in a four-week training course that we call Barbecue University
Support from the Home Office in all aspects of the business including Project Managers, Site Selection, Marketing, IT, Purchasing and much more

Let's Talk Numbers
Initial Investments
Franchise Fee $20,000
Estimated Total Initial Investment Range $289,939 to $421,244
Ongoing Fees
Royalty Fee: 5%
Marketing Fund Fee: 4%
Technology Fee: $99/month
Site Selection Guidelines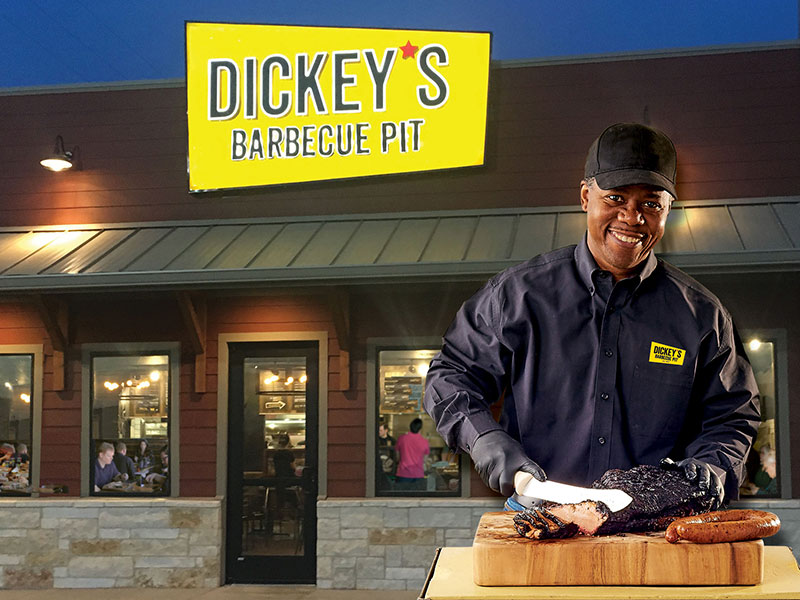 Residential population of at least 30,000, daytime/business population of at least 15,000, traffic figures of 12,000 daily cars minimum, average household income of at least $60,000, successful co-tenancy, and easy access and high visibility from main thoroughfares.
Typical Dickey's Square Footage is 1,500 square feet.
Typical Construction Timeline
4-20 weeks (Timeline may vary)
Building Cost
Estimated Total Building Cost* $243,500-$386,500
Non-traditional Conversion Store
Estimated total building cost* $45,600-$108,100
This web page does not constitute a franchise offering or an offer to sell a franchise. A franchise offering can be made by us only in a state if we are first registered, excluded, exempted or otherwise qualified to offer franchises in that state, and only if we provide you with an appropriate franchise disclosure document.
Request Information
Looking for more information about Dickey's Barbecue Pit®? Take a moment to fill out our quick information request form.