Beverly Hills Rejuvenation Center Franchise Opportunity
Financial Information:
| | |
| --- | --- |
| Franchise Fee: | $50,000 |
| Total Investment: | $453,950 - $631,000 |
Available Markets:

Canada:
United States: AL, AK, AZ, AR, CA, CO, CT, DE, DC, FL, GA, HI, ID, IL, IN, IA, KS, KY, LA, ME, MD, MA, MI, MN, MS, MO, MT, NE, NV, NH, NJ, NM, NY, NC, ND, OH, OK, OR, PA, RI, SC, SD, TN, TX, UT, VT, VA, WA, WV, WI, WY
Premier Medical Spa &
Wellness Center Franchise Opportunity
"The Art of Beauty-The Science of Youth"
We are excited about your interest to become a franchisee, and become part of our mission to bring the most innovative and cutting edge age management and wellness products and services to the United States.
We are excited about your interest to become a franchise owner and we welcome you to our mission to deliver the most innovative and cutting edge age management and wellness services to the market.
When we opened our first location in Los Angeles in 2005, our goal was to be a driving force and an innovator in the medical spa business. Since then, we revolutionized the industry by developing proprietary procedures and services. Our proprietary bio-identical hormone replacement therapy program and our non-surgical aesthetic treatments enable our clients to achieve their goal of total body rejuvenation.
Working with our team of licensed professionals, we serve the exploding market of repeat clients seeking to look and feel their very best at every age.
About the Beverly Hills Rejuvenation Center Brand
Beverly Hills Rejuvenation Center professionals and services improve the health and appearance of our clients providing a more enjoyable and fulfilling life. When clients feel healthy, they are more active, engaging and make the most of every day. When clients look better, they are more confident and accomplish more in both their professional and personal lives.
Our team of industry experts, certified staff, state of the art equipment and proprietary service procedures combine with professional medical oversight to provide clients the highest quality products and services in a comfortable and supportive atmosphere.
Beverly Hills Rejuvenation Centers are beautifully designed and spacious -approximately 2,000 square feet - in Class A retail or professional offices in high traffic, high visibility locations. Each center operates under the direct supervision of a physician. In some situations the franchisee is also the Licensed, Supervising Physician, however that is not a requirement of franchise ownership. We can assist non-physician franchise owners recruit required professional staff.
Why Become a franchisee With BHRC?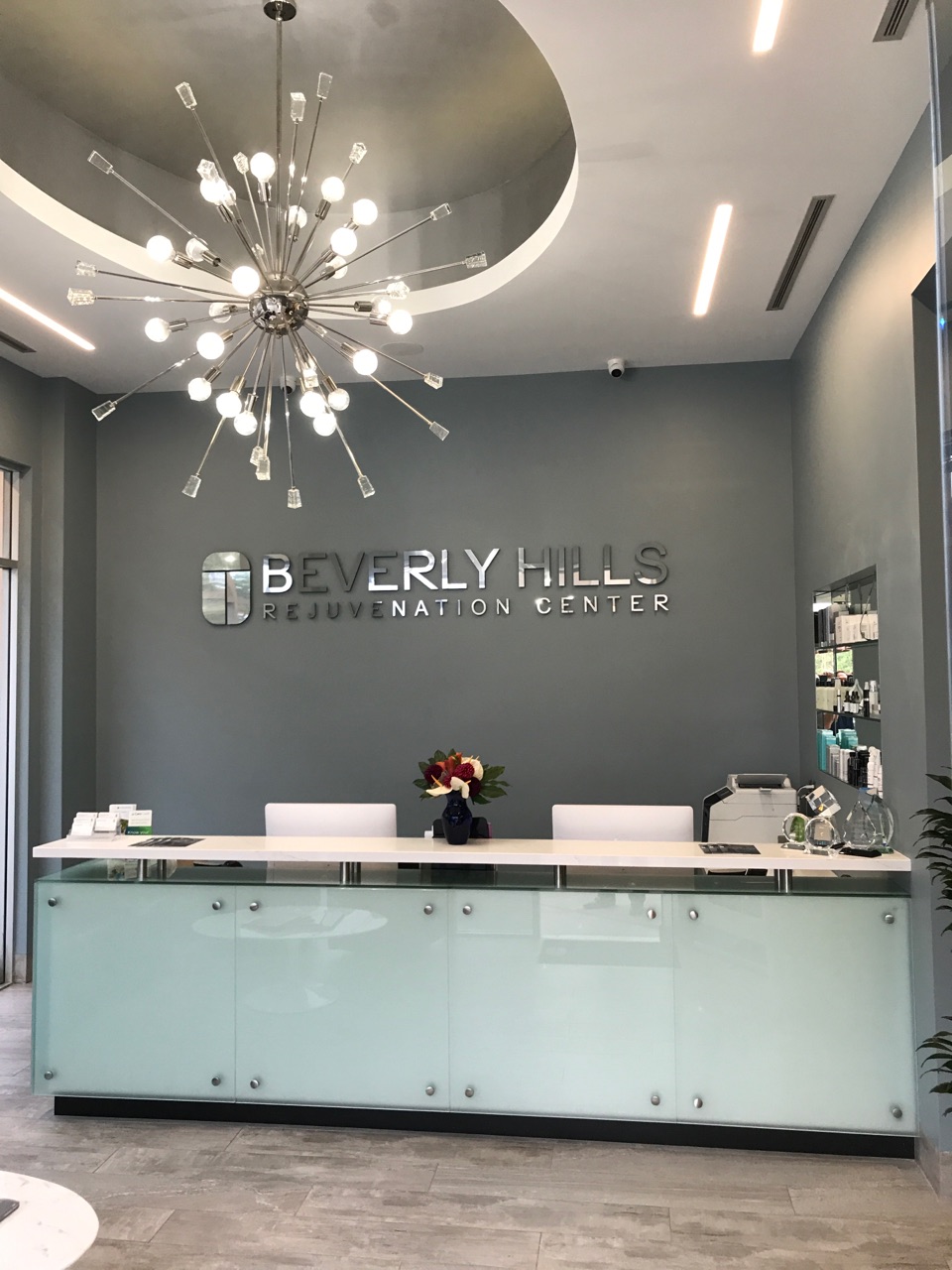 Because there has been nothing like Beverly Hills Rejuvenation Center until now. Even our brand name sets the standard of expertise and excitement as we lead an ever expanding market. Simply stated, age management and wellness services have reached wide spread acceptance as the technology becomes ever more precise and effective. Clients realize noticeable and immediate results without recovery times that disrupt their lives. Specific consumer motivations unique attract every age group from 20 to 70. Now that non-invasive aesthetic and wellness services are available, consumers are flocking to our Centers. Beverly Hills Rejuvenation Center is the number one brand in the category and the number one wellness Center in the Nation.
As with everything we do, the Beverly Hills Rejuvenation Center Franchise has developed a systematic approach to evaluating the degree of match between a person, their goals, business objectives and experience to our franchise offering. As we share information, we will mutually agree if our industry niche and business model is the best selection for you. For example:
Physicians:
Grow your current practice with a synergistic business model
Eliminate the burden, expense and receivables associated with medical insurance companies
Enter the exploding field of aesthetic enhancement, wellness and hormone replacement therapy
Entrepreneurs:
Diversify into the fastest growing segment of the health and beauty industry
Build an enterprise with our multi-unit business model
Serve both the millennial and baby boomer market segments
Enjoy a market with limited competition
Thinking of partnering with us? As part of the BHRC team, we can offer you:
Ten years of state of the art product and service development in the wellness & aesthetic industry
An average unit volume of $1.8 million with a high sales volume of $2.9 million
Cutting-edge technologies, products, and procedures
Proprietary and personalized bio-identical hormone replacement therapy and regimen
Total body rejuvenation including anti-aging, wellness, hormone replacement, aesthetic treatments, weight loss, and nutrition to optimize your internal health and external beauty
Training by the top experts and physicians in Beverly Hills Rejuvenation Center franchise
An on-going training program at our headquarters and in your market
Marketing assistance by our marketing and PR team to create cohesive and effective campaigns including a robust social media presence
Celebrity testimonials and a Red Carpet Grand Opening event
Industry milestone discounts on products and equipment that exceed both the initial franchise fee and royalty requirements
Join a Growing Health & Wellness Franchise
As the BHRC brand continues to grow across the country, we are seeking both successful business operators/managers and medical professionals to become franchise owners. Successful franchise owners are high energy, enthusiastic self-starters eager to build relationships in the local community and take pride in bringing a high end, specialized line of products and services to market.
If you'd like to learn more about becoming a Beverly Hills Rejuvenation Center franchise owner, simply complete and submit the form below. Upon receipt, we will be in contact to discuss the steps in our franchise approval process.
Request Information
Looking for more information about Beverly Hills Rejuvenation Center? Take a moment to fill out our quick information request form.