Multi-Unit Franchising Conference Rescheduled to Sept. 1 - 4
New sessions added on rebuilding your business after Covid-19
NOTE: The 2020 Multi-Unit Franchising Conference has been rescheduled to Sept. 1 -4 . Keynote speakers (see below) have committed to the new dates, as have most panelists, barring previous commitments. Yet, as we keep hearing, the situation is fluid. Stay informed through our website at www.multiunitfranchisingconference.com. Till then, keep safe and stay healthy!
The agenda will be updated with the addition of new sessions on the impact, challenges, and opportunities for franchisees and franchisors on how to rebuild, reorganize, and rejuvenate their business in a post-pandemic world.
The Multi-Unit Franchising Conference (MUFC) is marking its 20th year of growth by relocating to the brand new Caesars Forum, Las Vegas's newest conference center. Located across the street from Caesars Palace, the 550,000-sq.ft., $375 million, state-of-the-art venue was chosen to accommodate the event's growing number of attendees and exhibitors.
The first--and largest--conference dedicated exclusively to multi-unit franchising, the 2019 MUFC drew more than 1,700 attendees, representing more than 16,000 units and $9 billion in annual revenue. Before the coronavirus, attendance was on pace to reach or exceed 2,000. We are expecting, and hoping along with everyone else, to come out of this pandemic healthy and eager to resume business in what most likely will be a different marketplace.
"I have been attending the MUFC since 2006 and have made a deal every year I attended, with only one year being the exception," says 2020 Conference Chair Tony Lutfi, a longtime multi-brand franchisee. "Along with my family, I grew our portfolio from less than 50 locations to more than 230 with 7 brands in 11 states. This growth could not have been possible had I not invested the time and energy in meeting, networking, and learning from others at this annual event."
The evening before the conference will feature a franchisee-only get-together at Brooklyn Bowl in The LINQ Promenade, offering attendees a chance to catch up with old friends and meet new ones while enjoying appetizers and drinks.
Day 1 of the conference kicks off the next morning with keynote speaker Kevin O'Leary, best known for his appearances on "Shark Tank." Nigel Travis, Chair and former CEO of Dunkin' Brands, is the afternoon keynote speaker. The day also will include general sessions, an opening networking reception in the Exhibit Hall, and the debut of an after-hours meet-up and cocktails event for all attendees.
Day 2 begins with a bang: a first-person account from keynote speaker Captain Scott Kelly, the first NASA astronaut to complete a full year in space. (His twin brother Mark Kelly, also a NASA astronaut, keynoted at the 2013 MUFC and is now running for the U.S. Senate in Arizona). The keynote will be followed by the much-anticipated annual MVP (Most Valuable Performer) Awards. Each year about a dozen multi-unit franchisees are recognized as MVPs. Categories include Veteran Entrepreneurship, Noble Cause, American Dream, Former Pro Athlete, Mega-Growth Leadership, and more.
With the agenda, sessions, and content based on feedback from last year's attendees and input from the Conference Advisory Board, the 2020 MUFC will feature six educational tracks: Succession Planning, Franchisee Growth, Service Brands, Operations & Profitability, Next-Gen Franchisees, and Legislative Impact. And, as noted, new sessions on rebuilding your business in a post-pandemic world.
"The conference allows you to unwind from your business and open your mind to ideas and methods of business explained by peers who have lived through the issues or potential mistakes you would have made if you did not attend," said Andy Cabral, a franchisee of Dunkin', Baskin-Robbins, and Pollo Campero.
For registration, to learn more, and to keep up on the agenda and other news, visit www.multiunitfranchisingconference.com.
2019 MUFC By The Numbers

Attendees

1 brand

2 brands

3+ brands

1,700+

50%

18%

32%

Franchisees

Employees

Revenue

Exhibitors

650+

250,000+

$9 billion

200+
Tracks & Sessions

with new sessions to be added on rebuilding after COVID-19

DAY 1

7:30-8:30 am

Continental Breakfast

8:30-10:10 am

Opening General Session Keynote: Kevin O'Leary

10:45-11:45 am

General Session: Business Continuity Through the Succession Planning Process

12:00-1:30 pm

Luncheon: Franchisee-Only & Franchisor and Supplier

1:45-2:30 pm

General Session Keynote: Nigel Travis, The Challenge Culture

2:35-4:00 pm

General Session: Lessons From The Edge - Successful Multi-Unit Franchisees Tell Their Growth Stories

4:00-7:00 pm

Networking Cocktail Reception, Exhibit Hall

9:00-11:00 pm

After-Hours Meet-Up & Cocktails

DAY 2

7:30-8:30 am

Continental Breakfast

8:30-9:50 am

Opening General Session Keynote: Captain Scott Kelly

10:10-10:30 am

General Session: State of the Industry, FRANdata

10:35-Noon

General Session: Discover New and Innovative Ways To Make Money in Franchising

12:15-2:15 pm

Lunch in Exhibit Hall

Concurrent Breakout Sessions (6 Tracks, two 1-hour sessions)

2:30-4:45 pm

Track 1: Franchise Growth
Track 2: IFA Franchise Action Network
Track 3: Succession Planning
Track 4: Operations & Profitability
Track 5: Service Brands (Non-Brick & Mortar)
Track 6: Next-Gen Franchisees

2:30-3:30 pm

Track 1: Developing Great Managers Is the Key to Success
Track 2: IFA - Franchise Action Network
Track 3: Maintaining Business Continuity in Transferring to the Next Generation
Track 4: Scale Your Organization for Growth
Track 5: Understanding the Benefits of Investing in a Non-Brick & Mortar Service Brand
Track 6: Next-Gen Franchisee Basics For Running a Multi-Unit Enterprise

3:45-4:45 pm

Track 1: Due Diligence for Choosing a New Brand, Segment, or Service System
Track 2: IFA - Franchise Action Network
Track 3: Planning for Long-Term Income & Wealth
Track 4: Protect Your Bottom Line from Eroding
Track 5: Scaling Service Brands through Multi-Unit Territorial Expansion
Track 6: Strategies for Assuming the Reigns of the Enterprise

4:00-7:00 pm

Closing Networking Cocktail Reception, Exhibit Hall

DAY 3

8:30-9:00 am

Continental Breakfast

9:00-11:00 am

Closing Session: TBA
Published: April 12th, 2020
Share this Feature
Recommended Reading:
Comments:
comments powered by

Disqus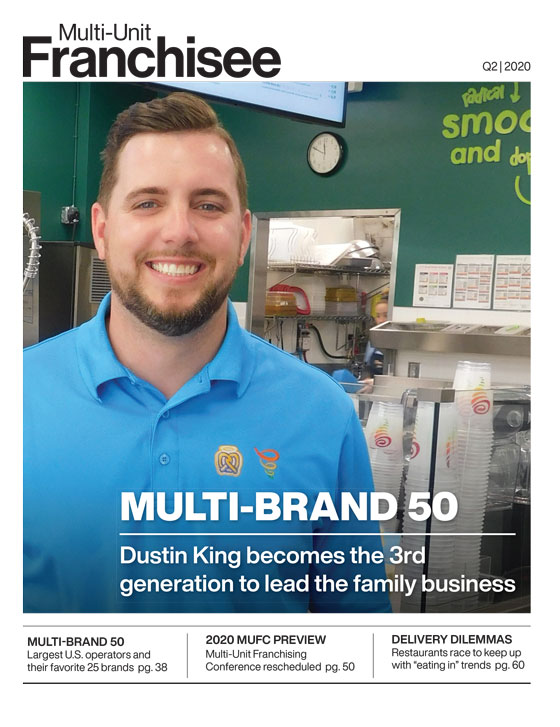 Multi-Unit Franchisee Magazine: Issue 2, 2020
The Joint® Chiropractic is reinventing chiropractic care. Our vision is to become the largest, most respected provider of chiropractic services...
Cash Required:
$100,000
We at Kale Me Crazy believe in real food and that everyone deserves access to real food. We provide a variety of quick and nutritious options to...